Service Activities of Ramakrishna Math, Ulsoor
Cultural Competitions
Cultural Competitions , Book Fairs, Youth Day Celebrations, Yuva Jagrati. To encourage and bring the hidden talents in the students, and young artists, Math conducts following competitions every year, in which students from various schools participate with lots of enthusiasm. These are
Essay Writing
Gita Chanting
Fancy Dress
Quiz
Elocution Competition
Drawing & Painting
In the year 2012, 525 students from 12 schools registered their names and among them 350 took part in the competition. A total of 35 prizes along with certificates are being awarded to the winners. This includes 8 first prizes; 8 second prizes; 8 third prizes; and 11 consolation prizes. Each prize winner was given Personality development books along with Prize certificate.
A special prize is awarded to"Amarajyothi Public School" which has sent maximum number of participants. Also another special award was given to "Army Public School" for securing maximum number of prizes by the students of this school.
Images of competitions can be seen here.
Cultural Competitions , Book Fairs, Youth Day Celebrations.
More details of Cultural Competitions 2012 are available here. Results of these events can be seen here.
Yoga Monthly Classes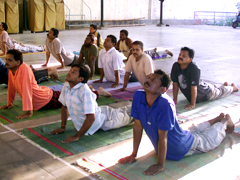 Need of a fit body and fit mind is pre-requisite for any achievement in life. Swami Vivekananda as well as our ancient Rishis (Men of Wisdom) stressed on good physique before the practice of Religion. Yoga Practices (Physical Exercises) are very useful as an aid for having a Strong Body and Mind.
Providing competent directions as well as environment is very important for Yoga practices. Ashrama is conducting regular Yoga Camps. These well-attended camps extend for duration of one month for a batch. All the participants are guided step by step in performing various Yoga postures and are also explained about the benefits of each of them by an expert teacher.
Both Men and Women are provided Yoga training in separate batches.
Duration of the course is 1 month.
This is not a residential course.
Timings (For Both Men and Women at different venues ):

6 AM to 7 AM (First Batch)
7 AM to 8 AM (Second Batch)

Fresh course starts from 1st day of every month. If the 1st day falls on Sunday, then from next day
To register, applicant has to fill up the prescribed Application Form and pay the fees in the Ashrama Office before 30th of the month (Office Timings 9 to 12 noon and 4 to 6 30 pm)
A fee of Rs 600/- is charged for new comers.
Repeaters also can join after paying fees Rs. 300/- from his/her 2nd Monthly class onwards.
Participants will have to bring their own Carpets.
Yoga books will be given to all participants.