Spirituality - Need of the hour
Sat Sanghas are conducted at different parts of the city.
1. Monthly Satsanghas at Brigade Metropolis, Mahadevapura : For details please contact 9845764016.
2. Japa yajnas are conducted on every Sundays. Spiritual Initiation (Mantra Diksha) is arranged for interested spiritual aspirants.
3. On invitation, we conduct "Yuva Jagrati Programmes/ Personality Development Programmes" at different schools and colleges in Karnataka.
Spirituality - Need of the hour
Spiritual Retreat
,
Celebrations
One of the pressing needs of the current society at large is Spirituality, which is thought to be the best cure for its innumerable problems - both individual & collective.
Spirituality is considered as the basis of all other activities. With this in mind the Ashrama conducts a number of activities to infuse right ethics & spirituality in all.
The temple in the midst of the calm, serene & green surroundings of the ashrama is a place for practice of meditation & contemplation on God. It is open to one and all irrespective of religion, caste & creed.
Festivals
Apart from regular pooja activities, Ashrama also observes all significant festivals during which Special Pujas & Homas are offered with devotional singing.
Birthdays of Sri Ramakrishna, Holy Mother Sri Sarada Devi, Swami Vivekananda, Direct Disciples of Sri Ramakrishna, Shankara, Jesus Christ, Krishna, Buddha, Sri Chaitanya, etc. are celebrated. Apart from these, Durga Puja, Kali Puja, Maha Shivaratri, Guru Poornima, etc. are also celebrated with due solemnity.
Spiritual Retreats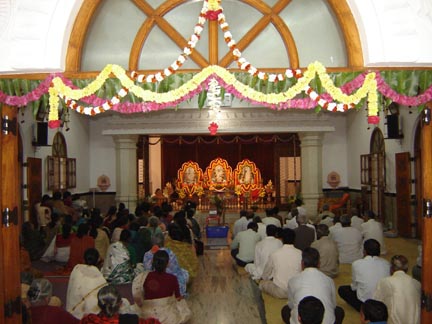 In order to help spiritual aspirants to grow in life, in an effective manner, bi-monthly Spiritual Retreats are conducted in the Ashrama. Spiritual aspirants enjoy Discourses, Bhajans (Devotional Songs), Chanting, etc.
Satsangs (Spiritual Gatherings)
Occasional visits of Revered President & Vice-President and Senior Swamijis of the Ramakrishna Order provide opportunities to the devotees to receive guidance from them. In an effort to provide spiritual guidance to wider range, monks travel to distant localities and conduct Discourses & Retreats.
Please visit below links to see photos of various Religious & Spiritual events
Spiritual Retreat, Celebrations.